Random pictures of The Tour
I don't know where to start. So I'm going to post a whole heap of photos in the hope that they inspire exciting anecdotes and tales of the road.
The tour was definitely a success. First gig on the ferry was something of a warm-up. It was a fantastic day and we stopped at Kaikoura for a while to take in the view from the hill above the seal colony. (No seals though!) Next day in Christchurch, Warner played a lovely acoustic version of 'Sink with Dignity' on RDU, and the gig at the Wunderbar in Lyttelton with
Pine
was excellent.
Pine are great live! (If you live in Auckland go see them this weekend with Fang! and Alec Bathgate!) I'm digging their new album Akira Sunrise too.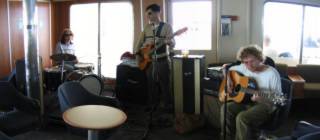 Next day we drove to Queenstown for a gig at the Dux. Quite a long drive through the beautiful scenery of the Mackenzie Basin and punctuated by a lunch-stop at Lake Tekapo.

It was Guy Fawkes, but QT didn't go especially hard out with the pyromania - surprising! Although it was kind of a lull between seasons, which could explain it. QT was beautiful.



One weird experience was at a bar called Altitude, post-gig. Our host assured us it was the place to be, and was particularly excited about the beer taps with attached tv screens, "playing snowboarding videos!" Snowboarding, you say. Sky 1 porn, more like!!


After Queenstown we headed across to Dunedin, where I spent five of my formative years studying at Otago University. We went straight to Radio One for an interview with Belinda, then later had a very cool gig at the Crown with locals Onanon.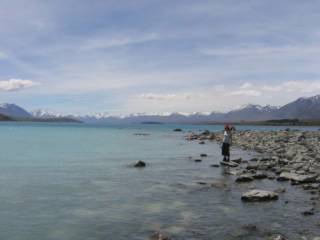 After the Crown gig I left the boys and wandered up north towards the Octagon. I stopped by the First Church on Moray Pl, as you do. I used to live on Moray Pl and I spent many a late night standing beneath the spire, gazing upwards. Quite something.

And that was that. Possibly a pretty random collection; I'm still sleep-deprived and fiddling with these things takes far more time than I'd like. But the pressure got to me! I took about a hundred times as many photos as you see here - new camera you know - and quite a few wee videos. But I figured how many times do you need to see the same three people holding the same instruments, with different backgrounds? ;) Clearly, nowhere near enough pictures of ME.

Labels: music