I didn't go to Nick Cave but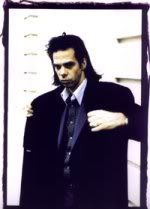 Nick Cave was here last weekend.
Joanna
went to see him in Wellington, and
Barry
went to see him in Auckland.
I didn't go, but I did have the pleasure of dashing past him at the airport on Friday. I rounded the corner past Whitcoulls and there he was, white shirt and sunglasses, swished back hair and pale face, walking past me. My eyes followed him as recognition dawned and then he was gone, and I gasped like a proper fan girl. Oh, excitement! But I was late, so I kept walking, and then I saw
children grasping
at Anton Oliver who was patiently giving out autographs.
It was quite an eventful departure.