*drool*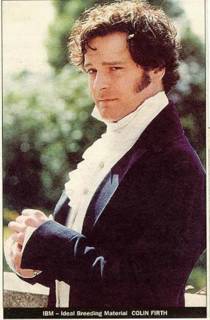 A month or so ago
Bridget Jones' Diary
was on television. Even though we'd all seen it, Stacey, Amelia, Nick and I were on the edge of our seats. Perhaps for different reasons. What is it about Colin Firth as any kind of Darcy that's entirely irresistible?? I've seen Pride and Prejudice about a million times; during its second run on Montana Sunday Theatre I even taped it
and
took out all the ads. It runs across two battered old video tapes, and every few months we enjoy a P&P marathon. Most recently, two weeks ago. *Bliss*
I know almost all the words; we crow with delight at the altercations between Lizzy and Darcy and we howl with dismay and frustration at Lydia's misbehaviour. It doesn't get tired. In fact I've been keeping an eye out for it on dvd on
trademe.
The gift that keeps on giving...


Anyway, the word on the street is that there's a new version of P&P, know as Bride and Prejudice. Hmmmm. Not sure... early reports sound reasonable however; I'll give it a shot. It's directed by Gurinder Chada, responsible for Bend it Like Beckham. Which I haven't seen.

What do the people think? Worth a look, I guess. Props to Jane Austen, anyhow.