'Niu Sila' at Downstage
This evening I went to an excellent play:
Niu Sila
. It's by Oscar Kightley and Dave Armstrong, and it's fantastic! It sold out at the
AK05
festival recently. If you live in Wellington, you have until Saturday to go see it at
Downstage
– it comes with the highest of recommendations.
Call them now
and see what seats they have left – don't read any further. Go see it!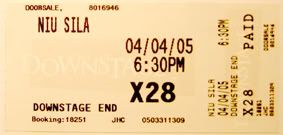 It's about the friendship and alienation of two boys who grew up next door to each other – one Pacific Islander, one palangi (
pakeha
/ white). Ioane and Peter are best mates and the portrayals of their shared cultural experiences are hilarious and touching. As the boys become teenagers, they drift apart and follow the stereotypical paths, with Peter working in a government department writing policy on biculturalism and Ioane developing a drinking problem and leaving a wake of fatherless children. Twenty years later, they bump into each other in a pub, Peter on a work outing placing a Melbourne Cup bet and Ioane hanging at the
TAB
for something to do. Ioane's resentful attitude leads to a confrontation and Ioane recognises he has to take responsibility for his actions.
Dave Fane and Damon Andrews were both fantastic, and with each playing a slew of characters, Andrews is the ideal foil to Fane's magnetism and humour. Issues of race - made funny! Brilliant.
I was actually buzzing when I came out afterwards. Ups to Gibby for the suggestion!