Aurally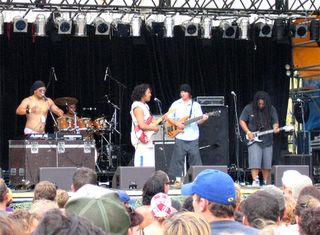 There are three cds I would like to mention. First, the
Kora ep – 'Volume'
. It is my new favourite, and it kills me that it's only four tracks long. 18.9 minutes of fresh skankin' goodness. My favourite is 'Crazy Things' which I think is the track where they freaked out at Raglan – in a good way. 'See Me' is also very cool, and so is 'Burning', and you'll all know 'Politician' (don't you?) and that's it and it's great!
The second is from 1998:
Neutral Milk Hotel – 'In The Aeroplane over the Sea'
. This one took a little while to grow on me but now I love it. My favourite song is 'Two Headed Boy' - part two, and who could go past 'King of Carrot Flowers' – parts 1, 2 and 3? A case of better late than never! Along the same lines as Grandaddy, Death Cab for Cutie, the Decemberists… nice. Props to Marilyn!
The third is
'Pipeline Under The Ocean' by Pluto
. I gave in to
the hype.
I still need to form an opinion on this one.
I've also been listening to the Decemberists, Bonnie Prince Billy, the Mint Chicks, Jimi Hendrix. Yesterday I found that the Flaming Lips brought on a feeling of dissatisfaction; after a few anxiety-ridden hours it was successfully warded off with caramels, a surprise chocolate lamington and 'Little Atoms' by the Black Seeds. Funny, even though I know the name of the song, I still think Barnaby's singing 'Little Ella's in my room… making up a mess of the digital'. It's actually 'Little atoms in my room… making up a mass of the physical.'